Last Updated on
Top 10 Most Popular Men's Watches in 2019
Men's watches have been popular around since the dawn of the 13th Century, the first mechanical watch was found at Salisbury Cathedral and dates to 1275. Long ago there were only three clocks in all of Italy: one for the hours that pass, an astronomical clock and a monthly clock. Of course, this wasn't a convenient setup, so blacksmiths continued to develop watches shifting from iron to brass, bronze, and silver.
In the 1540s the Swiss watch industry was born because of John Calvin the leading reformer of Geneva during the Reformation. He banned the use and creation of jewelry like rings, necklaces and the like due to his belief that they were not aligned with the teachings of God. This was a grave threat to jewelers and pushed them to create the first pocket watch in 1574.
Since then men have been using varieties of watches,  from pocket watches during the late 16th century that only showed the passing hours to the wrist watches during World War 1. As technology grew watches were no longer just a statement piece or an accessory; they became a necessity. Not only noble and powerful men used them but also the common folk.
Before we find out the best men's watches in 2019, let's discover a few known types of wrist watches for men:
 Dress watch
Developed in the early 20th century for well-enough gentlemen who wanted jewelry that was practical and wanted their timepieces on their wrists rather than their pockets. Dress watches are sleek and straightforward that shows class and compliments a man's outfit. They are typically thin to be easily seen in and out of shirt cuffs. The dial displays simple numbers like roman numerals or small Arabic numerals. These watches are more often made of leather. Dress watches, because of their simplicity often don't have any complications; in the long run, they are reliable timepieces that last a lifetime.
Field Watch
This is a more durable wrist watch since it was developed from the Trench watch of the WW1. Field watches are intended to survive rigorous daily ambiance, rugged, functional and stylish at the same time. These watches are often small to medium to make sure they won't get in the way of daily activities, usually made from stainless steel or titanium, the critical feature of a field watch is the night glow of their hands and "Hacking seconds" to make time references easier.
Dive Watch
Dive watch is one type of the sports watch, it is popluar for men and women. Inspired by the coastal life these watches are well-known for being water resistant(Waterproof). Rolex made the first dive watches during the 1930s.
Pilot/Aviator Watch
These watches are diverse in style but stick to the same functionality. Aviator watches(Pilot watches) are designed to be easily read even in a dark cockpit with an oversized dial and luminous hands.
Driving Watches
Cars and watches have been together since the 1930s. Standards of which were developed by TAG Heuer. They are often huge with Arabic numerals, usually has bright contrasting colors and includes a Chronograph and dates.
Bottom line?
Let's  dive into the top 10 list of  best watch brand for the year 2019 and roughly how much they cost.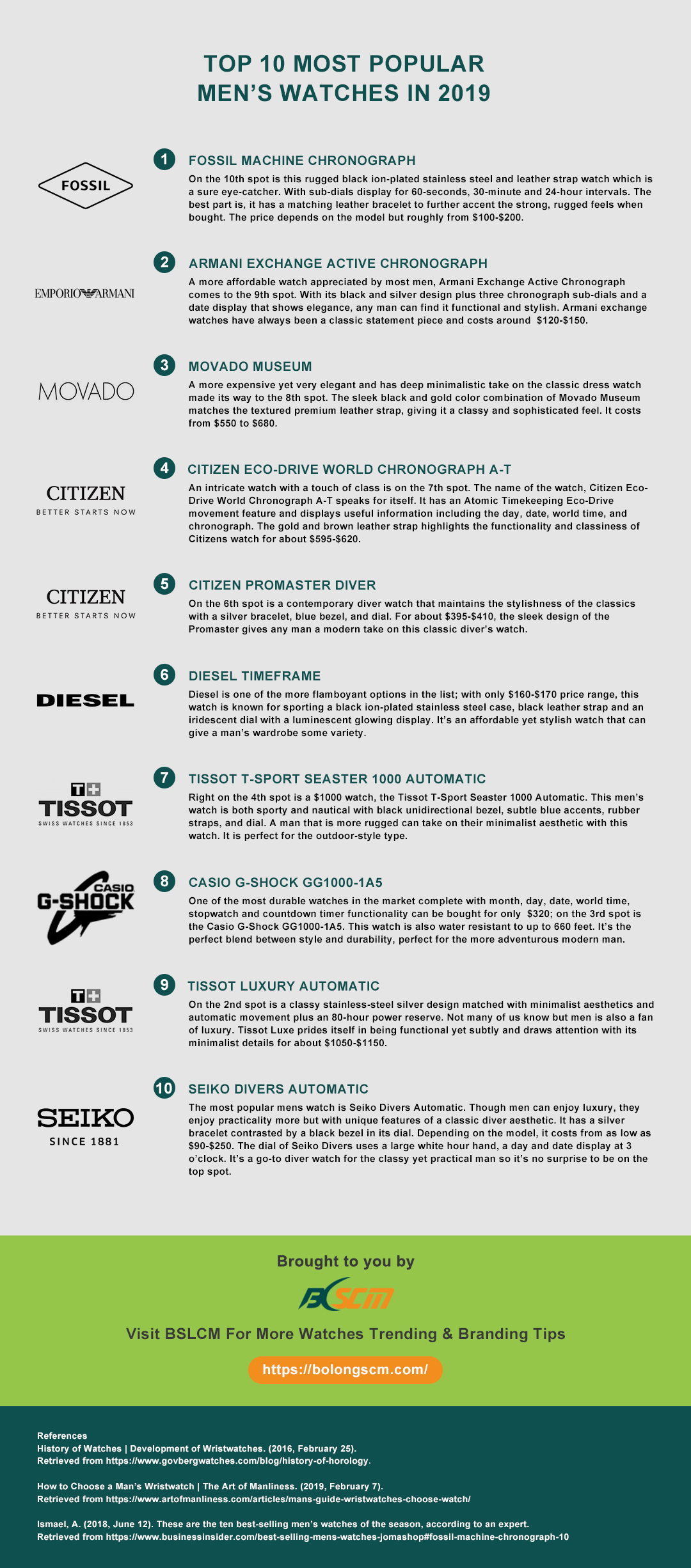 Share this Image On Your Site
Fossil Machine Chronograph
On the 10th spot is this rugged black ion-plated stainless steel and leather strap watch which is a sure eye-catcher. With sub-dials display for 60-seconds, 30-minute and 24-hour intervals. The best part is, it has a matching leather bracelet to further accent the strong, rugged feels when bought. The price depends on the model but roughly from $100-$200.
Armani Exchange Active Chronograph
A more affordable watch appreciated by most men, Armani Exchange Active Chronograph comes to the 9th spot. With its black and silver design plus three chronograph sub-dials and a date display that shows elegance, any man can find it functional and stylish. Armani exchange watches have always been a classic statement piece and costs around  $120-$150.
Movado Museum
A more expensive yet very elegant and has deep minimalistic take on the classic dress watch made its way to the 8th spot. The sleek black and gold color combination of Movado Museum matches the textured premium leather strap, giving it a classy and sophisticated feel. It costs from $550 to $680.
Citizen Eco-Drive World Chronograph A-T
An intricate watch with a touch of class is on the 7th spot. The name of the watch, Citizen Eco-Drive World Chronograph A-T speaks for itself. It has an Atomic Timekeeping Eco-Drive movement feature and displays useful information including the day, date, world time, and chronograph. The gold and brown leather strap highlights the functionality and classiness of Citizens watch for about $595-$620.
Citizen Promaster Diver
On the 6th spot is a contemporary diver watch that maintains the stylishness of the classics with a silver bracelet, blue bezel, and dial. For about $395-$410, the sleek design of the Promaster gives any man a modern take on this classic diver's watch.
 Diesel Timeframe
Diesel is one of the more flamboyant options in the list; with only $160-$170 price range, this watch is known for sporting a black ion-plated stainless steel case, black leather strap and an iridescent dial with a luminescent glowing display. It's an affordable yet stylish watch that can give a man's wardrobe some variety.
 Tissot T-Sport Seaster 1000 Automatic
Right on the 4th spot is a $1000 watch, the Tissot T-Sport Seaster 1000 Automatic. This men's watch is both sporty and nautical with black unidirectional bezel, subtle blue accents, rubber straps, and dial. A man that is more rugged can take on their minimalist aesthetic with this watch. It is perfect for the outdoor-style type.
Casio G-Shock GG1000-1A5
One of the most durable watches in the market complete with month, day, date, world time, stopwatch and countdown timer functionality can be bought for only  $320; on the 3rd spot is the Casio G-Shock GG1000-1A5. This watch is also water resistant to up to 660 feet. It's the perfect blend between style and durability, perfect for the more adventurous modern man.
Tissot Luxury Automatic
On the 2nd spot is a classy stainless-steel silver design matched with minimalist aesthetics and automatic movement plus an 80-hour power reserve. Not many of us know but men is also a fan of luxury. Tissot Luxe prides itself in being functional yet subtly and draws attention with its minimalist details for about $1050-$1150.
Seiko Divers Automatic
The most popular mens watch is Seiko Divers Automatic. Though men can enjoy luxury, they enjoy practicality more but with unique features of a classic diver aesthetic. It has a silver bracelet contrasted by a black bezel in its dial. Depending on the model, it costs from as low as $90-$250. The dial of Seiko Divers uses a large white hour hand, a day and date display at 3 o'clock. It's a go-to diver watch for the classy yet practical man so it's no surprise to be on the top spot.
As you have read, watches have been around for centuries and sure enough, as technology evolves, watches will too. But regardless if you want the sophistication of the dress watch or functionality of a field watch there will always be a myriad of choices that will surely fit your wardrobe and preference. Any man can style his own type of watch for any price, it is always up to you.
What are the best men's watches in your mind?
Does this post help you choose the best affordable watch brands?
Tell us what is in your mind in the comment and share it to help your friends around.